So I love seeing giveaways come across my facebook feed. Here is a compilation of some of the giveaways going on right now. Some end in a few hours/days so be sure to enter soon!!
Mommypotomus is offering you the chance to win your choice of 5 qt. Kitchenaid Mixer!!

12 HOURS left to enter Grass Fed Girl's book giveaway! (you need to click on the link toward the bottom of the page that says a rafflecopter giveaway)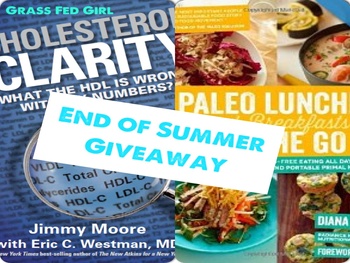 2 days left to enter to win this Martha Stewart Craft book from ModgePodge Rocks Blog!
Updates: More giveaways:
Here's a totally awesome giveaway from US Wellness Meats Lodge Cast Iron and $150 gift certificate to US Wellness Meats! (I hope I win this one!! lol):
Easy entry for an essential oils collection from Herbs and Oils World. Note: by entering you are subscribing to their newsletter:
Coconut Mama is offering yout he chance to win this Excalibur Dehydrator!
Living Low Carb One Day at a Time is offering you a chance to win your choice of this colorful dutch oven!
Good luck!